Smoked Salmons & Avocado Cucumber Bites
Dec 29, 2019
Need a quick, easy and healthy appetizer? I've got you covered with the simple and delicious smoked salmon, avocado, and cucumber bite.
---
The Perfect Party Appetizer!

When it comes to parties or potlucks, I find most people fall into 1 of 2 categories - you make something at home or you buy something at the store. I've always been a make-something-at-home type of gal. I used to make baked goods for my contribution but my gears have shifted a lot in the past few years and now I prefer to contribute a dish that provides a few more health benefits. (You can read about my personal journey with food and nutrition here).
---
This appetizer provides a delicious flavor combination and is refreshing. It reminds me of a sushi roll without the rice! You can literally whip up this dish in less than 10 minutes. Quick, easy, dishes are always a win in my book!
Bookmark this page or save it to your Pinterest board so you can reference it again when you need to provide a dish for a party.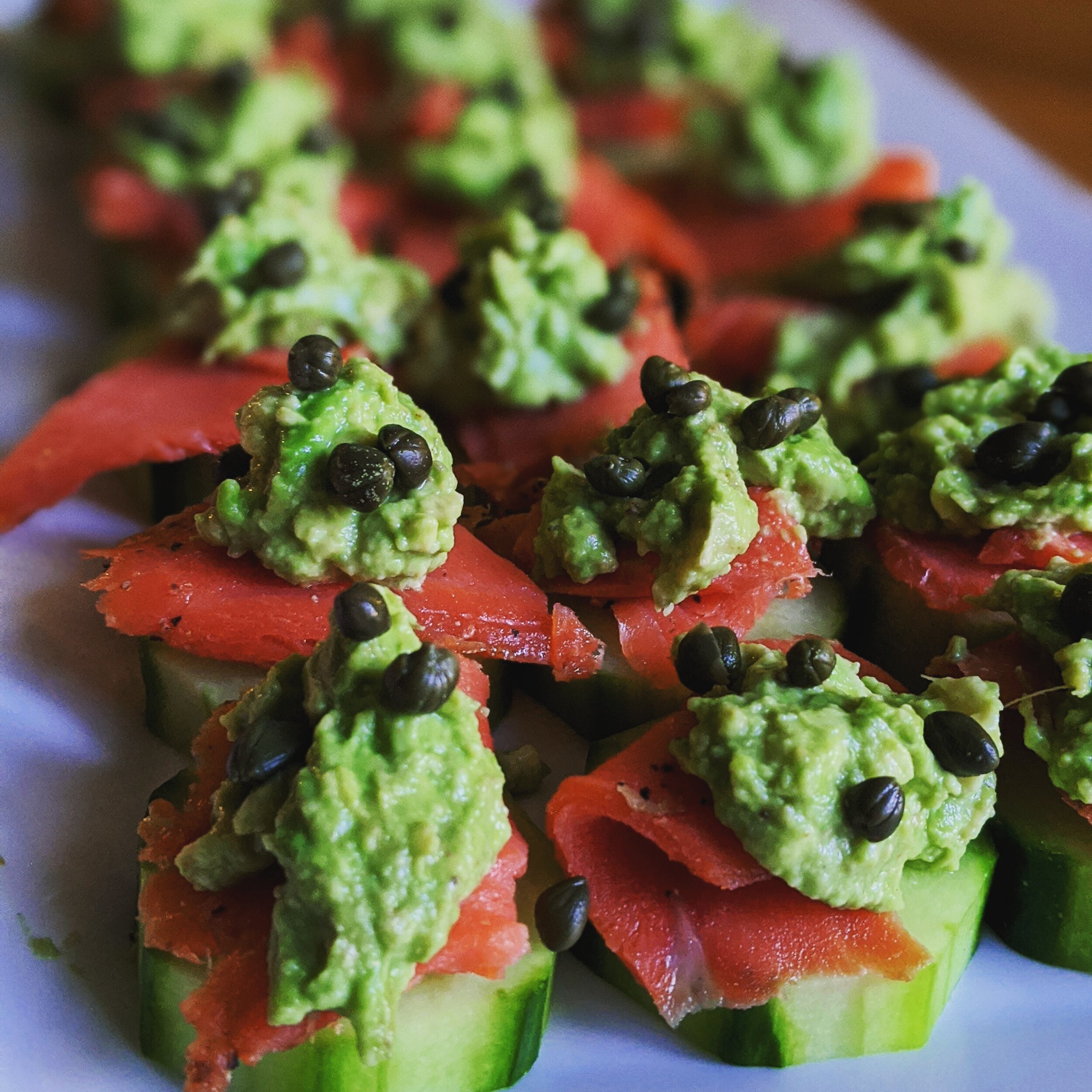 ---
Cucumber, Avocado, and Smoked Salmon Bites
INGREDIENTS
1 cucumber

1 avocado

12oz smoked salmon

1 TBSP capers

1 TBSP lime juice

1/4 tsp sea salt
INSTRUCTIONS
Slice cucumber into 1/2" slices. Mash the avocado in a bowl. Add the lime juice and sea salt. Cut the salmon into 1-2" pieces. Place a piece of salmon on each cucumber round. Add a dollop of mashed avocado. Sprinkle with capers and enjoy!
Are you overwhelmed by all of the conflicting information regarding health, hormones, nutrition, and weight management?
Join me twice a month for a FREE "Ask Me Anything" live zoom sesh! I'll answer all the questions you've been spending so much time searching the internet for.
Save Your Seat!