Smoked Salmons & Avocado Cucumber Bites
Dec 29, 2019
Need a quick, easy and healthy appetizer? I've got you covered with the simple and delicious smoked salmon, avocado, and cucumber bite.
---
The Perfect Party Appetizer!

When it comes to parties or potlucks, I find most people fall into 1 of 2 categories - you make something at home or you buy something at the store. I've always been a make-something-at-home type of gal. I used to make baked goods for my contribution but my gears have shifted a lot in the past few years and now I prefer to contribute a dish that provides a few more health benefits. (You can read about my personal journey with food and nutrition here).
---
This appetizer provides a delicious flavor combination and is refreshing. It reminds me of a sushi roll without the rice! You can literally whip up this dish in less than 10 minutes. Quick, easy, dishes are always a win in my book!
Bookmark this page or save it to your Pinterest board so you can reference it again when you need to provide a dish for a party.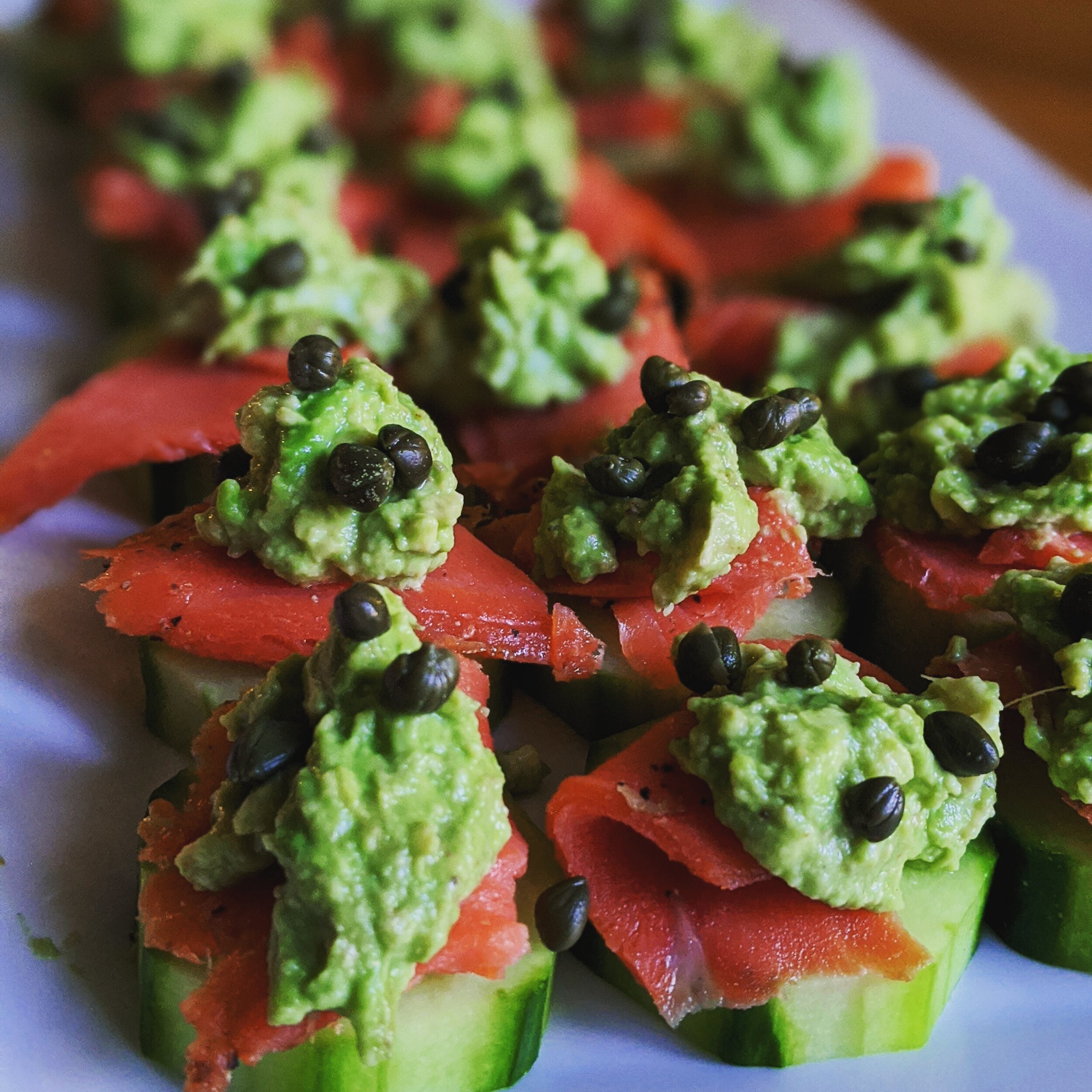 ---
Cucumber, Avocado, and Smoked Salmon Bites
INGREDIENTS
1 cucumber

1 avocado

12oz smoked salmon

1 TBSP capers

1 TBSP lime juice

1/4 tsp sea salt
INSTRUCTIONS
Slice cucumber into 1/2" slices. Mash the avocado in a bowl. Add the lime juice and sea salt. Cut the salmon into 1-2" pieces. Place a piece of salmon on each cucumber round. Add a dollop of mashed avocado. Sprinkle with capers and enjoy!
There's no one-size-fits-all fix to health concerns and symptoms. Why? Because there's no single, standard issue body out there! My processes don't conform to any standard prescription. They're fluid, diverse, and customized to accommodate the uniqueness of each body, each lifestyle, and each individual's differing needs.
Work With Me